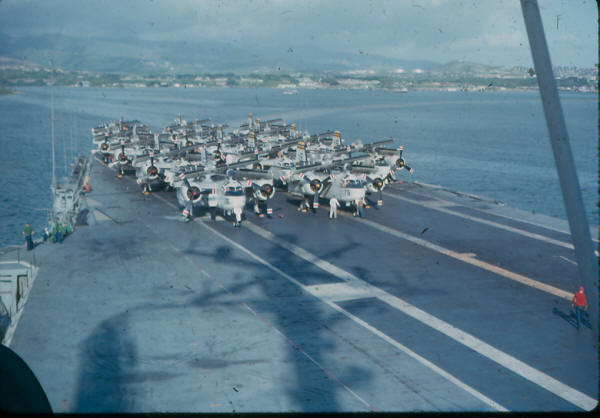 Pictures of a restored S2 at the Titusville FL Warbird Museum

Great video of the 67-68 Westpac cruise by Adam Savje

All Hands "Gathering" held in February 2014
Gary Weaver pictures from the 60's
Some pictures from the 2013 Officers Reunion in Branson
The 2013 All Hands Reunion in Pensacola was in April
Ron Kurtz pictures from the 1969 WestPac Cruise
70-72 pictures from Stuart Smith
Homesick for the Navy? How to get over it.
Bob Mitchell's pictures from 1963.
See VS29's facebook page. It's a closed group, so ask to join the group to see all the posts.
Ever worry that you have forgotten a step on an emergency checklist? Here are some pages from the S2D/E NATOPS PILOT'S POCKET CHECKLIST to help you refresh your memory. Don't have another S2 flashback nightmare without being ready! Many thanks to Dave Bitonti for finding us a checklist.
Source for VS29 patches (Thanks to Michael Hoffman and John McCorquodale)
List of VS29 Commanding Officers, courtesy of RAFS
The purpose of this web site is to preserve the history of VS-29,
and the men who served in VS-29, during the 1960-1970 period.
Send comments, corrections, and suggestions to VS29.
If you have any 1960's VS-29, North Island, WestPac,
or CVS-33 pictures, please share them with us.